Is Zoom bugging you ?
Was the meetings not as smooth as you'd have liked ?
Here are some things we need from you, to figure out what might have been the problem.
The money is in the
Details
First we need your Account, Host email, meeting ID, date, time.
Next we need to know who was affected ? and by what ?
What kind of disturbances ?

Is it only audio
Is it only video
Is it only sharing
Everything
Only when specific people are talking/presenting

Who had it ?
When / How much ?
What version of the Zoom client ?
What was running on the computer while the meeting was in the meeting ?

Antivirus
Firewall software
Office
Mail
VPN software (connected or not)
Anything and everything
And again be specific, we don't know what your standard image contains.

What kind of computer ?

Operating System
CPU
Amount of memory
Network type
Wired/Wireless
VPN
General guidelines
The usual stuff applies:
Make sure you're running the latest client
Try avoiding Wifi - especially if many participants are on the same access point.
Try restarting your computer just before the meeting.
Don't have a lot of programs running in the background​.
Try with and without VPN (mixed results based on VPN solution and VPNC load).
Zoom dashboard
As an administrator of a Zoom account you have access to the Zoom Portal Dashboard:
https://eu01web.zoom.us/account/metrics/dashboard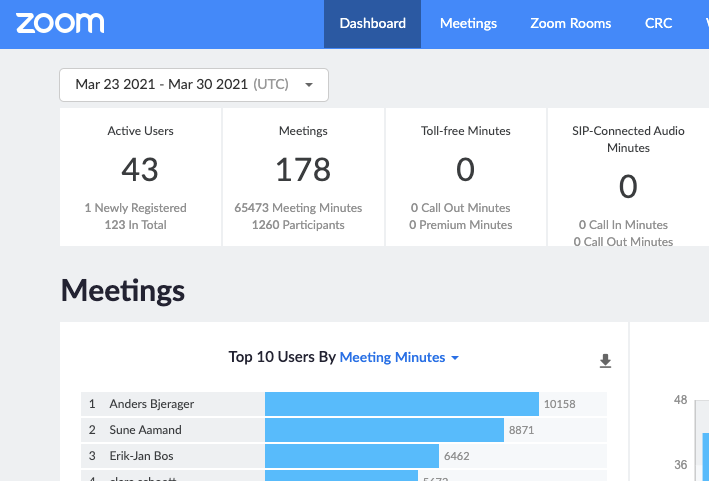 Where you can access important meeting details


As well as individual users details for a specific meeting.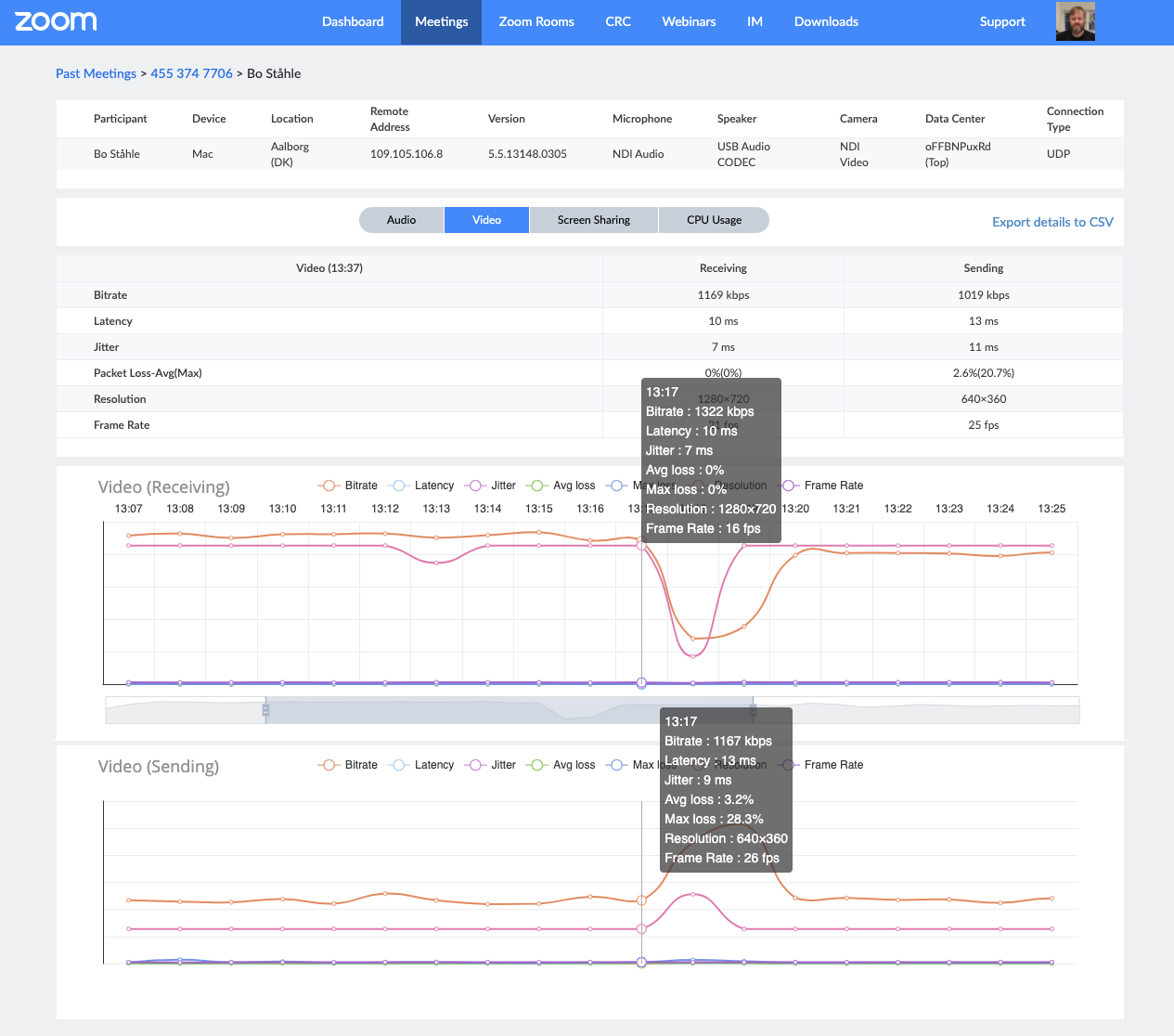 Meeting details are also exportable to CSV, both on user level and meeting level.
And the same goes for Webinars.
Network
On the network side check which MMR you're connected to (if you don't know how, you shouldn't debug the network side ;-)).
Try running an MTR (UDP) towards that IP and see if anything shows up.
mtr --udp --port 8801 185.174.117.141

And please do share any network debugging information
Bandwidth testers
Zoom clients does not require a lot of bandwidth (up to around 4-5Mbit/s bidirectional if running 1080P + Screensharing), so using a bandwidth tester to test the quality of your connection isn't going to work.
You're not testing the network path to the server you're trying to reach and you're testing a quality that for the most part is more than adequate on a 3G modem.
Other testers
Network testing utilities like iPerf and similar have a number of problems, even network professionals struggle to use them correctly and they usually have the same problem as bandwidth testers, they're not testing the connection to the Zoom server you're trying to have a meeting on.
Utilities
There are a number of small local tools you can use to debug. Usage and mileage varies on different platforms, so look up manuals on your own.
Local
ping
Sends ICMP Echo requests and times the response


ping -c 10 rclb01.zoom.nordu.net
PING rclb01.zoom.nordu.net (109.105.112.236): 56 data bytes
64 bytes from 109.105.112.236: icmp_seq=0 ttl=63 time=13.351 ms
64 bytes from 109.105.112.236: icmp_seq=1 ttl=63 time=12.045 ms
64 bytes from 109.105.112.236: icmp_seq=2 ttl=63 time=9.915 ms
64 bytes from 109.105.112.236: icmp_seq=3 ttl=63 time=11.857 ms
64 bytes from 109.105.112.236: icmp_seq=4 ttl=63 time=9.540 ms
64 bytes from 109.105.112.236: icmp_seq=5 ttl=63 time=10.528 ms
64 bytes from 109.105.112.236: icmp_seq=6 ttl=63 time=9.882 ms
64 bytes from 109.105.112.236: icmp_seq=7 ttl=63 time=9.495 ms
64 bytes from 109.105.112.236: icmp_seq=8 ttl=63 time=10.388 ms
64 bytes from 109.105.112.236: icmp_seq=9 ttl=63 time=9.610 ms

--- rclb01.zoom.nordu.net ping statistics ---
10 packets transmitted, 10 packets received, 0.0% packet loss
round-trip min/avg/max/stddev = 9.495/10.661/13.351/1.247 ms

netstat
A utility to show information about local network routes, connections and statistics


> netstat -np tcp | awk '$5 ~ /^185.174|^89.46|^195.148|^128.39/ {print $5}'
185.174.117.189.443
185.174.117.189.443


traceroute/tracepath
Shows the path to the provided

> traceroute zc01-z3.zoom.nordu.net
traceroute to zc01-z3.zoom.nordu.net (89.46.17.10), 64 hops max, 52 byte packets
1 dk-kas-fw.nordu.net (109.105.106.4) 14.268 ms 13.141 ms 9.960 ms
2 dk-kas-x1-sw-a02.nordu.net (109.105.106.3) 10.198 ms 9.434 ms 12.100 ms
3 dk-uni.nordu.net (109.105.99.164) 12.888 ms 13.588 ms 11.877 ms
4 dk-ore.nordu.net (109.105.97.132) 13.896 ms 12.762 ms 18.159 ms
5 mcen1-r1.sunet.se (109.105.102.123) 10.621 ms 15.573 ms 11.678 ms
6 lund-lnd88-r1.sunet.se (130.242.4.70) 13.010 ms 11.620 ms 11.640 ms
7 vaxjo-vxj-r1.sunet.se (130.242.4.63) 16.622 ms 15.327 ms 21.939 ms
8 jonkoping-jkg-r1.sunet.se (130.242.4.54) 15.486 ms 15.670 ms 19.749 ms
9 linkoping-lin3-r1.sunet.se (130.242.4.53) 19.870 ms 17.452 ms 50.719 ms
10 norrkoping-nkg188-r1.sunet.se (130.242.4.79) 19.418 ms 20.942 ms 51.442 ms
11 stockholm-tug-r1.sunet.se (130.242.4.59) 23.473 ms 19.455 ms 21.907 ms
12 tug-zoom.sunet.se (130.242.3.111) 26.659 ms 25.692 ms 28.029 ms
13 tug-zp1-sfw-01.nordu.net (130.242.3.145) 20.673 ms 19.406 ms 19.914 ms
14 tug-zp1-ssw-01.nordu.net (130.242.3.147) 23.648 ms 23.748 ms 27.177 ms
15 89.46.17.10 (89.46.17.10) 22.728 ms 21.645 ms 23.927 ms

mtr
Similar to traceroute, but have an updates view over time as well as options to specify protocol and ports to reach.

host/dig/nslookup
Used to examine DNS


> dig -t srv _h323cs._tcp.zoom.nordu.net

; <<>> DiG 9.10.6 <<>> -t srv _h323cs._tcp.zoom.nordu.net
;; global options: +cmd
;; Got answer:
;; ->>HEADER<<- opcode: QUERY, status: NOERROR, id: 1170
;; flags: qr rd ra; QUERY: 1, ANSWER: 2, AUTHORITY: 2, ADDITIONAL: 5

;; OPT PSEUDOSECTION:
; EDNS: version: 0, flags:; udp: 1280
;; QUESTION SECTION:
;_h323cs._tcp.zoom.nordu.net. IN SRV

;; ANSWER SECTION:
_h323cs._tcp.zoom.nordu.net. 3581 IN SRV 10 10 1720 rclb01.zoom.nordu.net.
_h323cs._tcp.zoom.nordu.net. 3581 IN SRV 10 10 1720 rclb02.zoom.nordu.net.

;; AUTHORITY SECTION:
zoom.nordu.net. 86230 IN NS ns1.nordu.net.
zoom.nordu.net. 86230 IN NS ns2.nordu.net.

;; ADDITIONAL SECTION:
rclb01.zoom.nordu.net. 86381 IN A 109.105.112.236
rclb02.zoom.nordu.net. 86381 IN A 109.105.112.235
rclb01.zoom.nordu.net. 86381 IN AAAA 2001:948:4:22::236
rclb02.zoom.nordu.net. 86381 IN AAAA 2001:948:4:22::235

;; Query time: 74 msec
;; SERVER: 109.105.96.141#53(109.105.96.141)
;; WHEN: Tue Mar 30 16:04:43 CEST 2021
;; MSG SIZE rcvd: 276