Zoom offers a public or hybrid cloud service. In the hybrid cloud service, you deploy meeting communication servers known as the Zoom Meeting Connector within your company internal network. In doing so, user and meeting metadata are managed in the public cloud while the meetings are hosted in your private cloud. All meeting traffic including video, voice and data sharing goes through the on-premise Zoom Meeting Connector.
Zoom Meeting Controller is packaged as an OVF and can be deployed onto any virtualisation platform.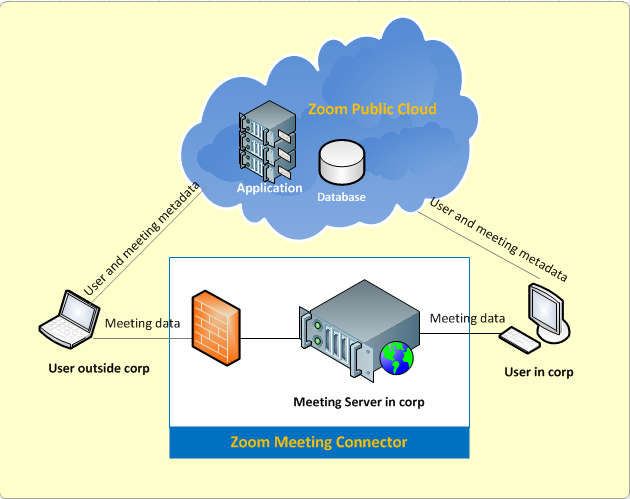 There are two types of VMs in the Zoom Meeting Connector:
Controller VM MMR VM In the Controller VM, there are two server processes:
ZC, stands for Zone Controller MMR, stands for Multimedia Router
In the MMR VM, there is one server process: MMR, stands for Multimedia Router
The simplest Meeting Connector set up is with one Controller VM deployment.
For high-availability, you can deploy another Controller VM.
If the ZC in Controller 1 is down, the other ZC in Controller 2 will take over automatically. Each MMR process supports up to 350 concurrent meeting participants at the same time. That is, if you deploy one Controller VM, your Meeting Connector supports 350 concurrent participants. If you deploy another Controller VM for HA, your total capacity increases to 700.
You can deploy additional MMR VM to increase the participants capacity.
In one Controller VM, you can deploy up to 200 MMR VMs. The Meeting Connector uses the public cloud for the following services:
Notification Services for meeting invitation

notifications on mobile devices and PC

Web Application Services for user and meeting metadata such as login, scheduled meeting list

Cloud Controller for syncing meeting status